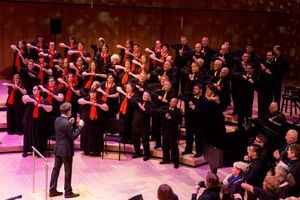 River City Mixed Chorus
The River City Mixed Chorus is one of the oldest mixed GALA (Gay and Lesbian Association of Choruses) choruses in the country. Formed in 1984, the 155-voice ensemble is celebrated for its outstanding musicianship, creative programming, and groundbreaking community outreach. Under the leadership of Artistic Director Dr. A. Barron Breland, RCMC sings a wide spectrum of classical and popular music while creating exceptional musical experiences to support diversity, inspire change, and empower communities. RCMC performs three major concerts per season, sometimes including performances in Lincoln, NE, in addition to numerous collaborations and community engagement events. The Chorus performs all over the Midwest, including at the Iowa Choral Directors Association Summer Conference, past collaborations with the Heartland Men's Chorus and other GALA choruses, as well as in local partnerships with the Omaha Symphony and Omaha Performing Arts. RCMC  performs regularly at the Holland Performing Arts Center and at historic venues such as the Orpheum Theatre, as well as in multiple churches throughout the Omaha community. While RCMC primarily consists of members who are gay, lesbian, bisexual, or transgender, the Chorus boasts a good number of straight allies to the LGBTQ+ community as well.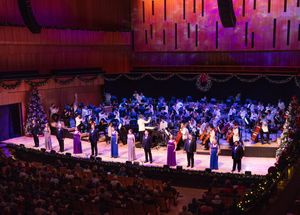 Résonance
Résonance is a premier semiprofessional vocal ensemble, comprised of multi-talented professional singers from the Greater Omaha area, whose mission is to engage, inspire and challenge those they entertain through eclectic and innovative vocal music performances and compelling collaborations. At the core is a 16-member a cappella ensemble, but the singers also perform collaboratively with additional singers and instrumentalists in styles that range from early music and opera to jazz and musical theater. Led by music director A. Barron Breland and associate music director and collaborative pianist Mark Kurtz, the singers have worked and performed with Grammy and Emmy Award winners, Broadway directors, and experts from the leading performing arts organizations in the area, including the Omaha Symphony and Opera Omaha.  ln 2017, Résonance completed its first tour to Steamboat Springs, CO, which included a featured performance with the Steamboat Symphony Orchestra. ln 2015, the ensemble was invited to perform as featured artists at the Nebraska Choral Directors Association summer conference. Résonance is frequently featured at Gallup conventions, most recently for the global CliftonStrengths Summit. Recent achievements include  completing the recording of their first album with NAXOS recording engineer Jamey Lamar, released July 2020. Find out more about Résonance at resonancevoices.org.