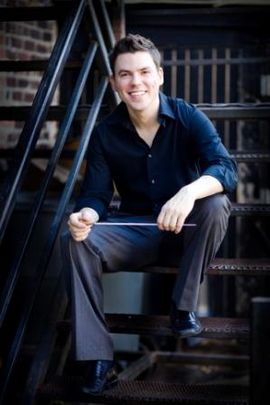 A. Barron Breland has emerged as a conductor set apart from others by his eclectic skills, equipped to perform music from masterworks of the Baroque and Classic eras to great contemporary works of art, including repertoire in various popular styles. Recent choral performances conducted include the Duruflé, Brahms, and Mozart Requiems, Haydn's Lord Nelson Mass, and Bach's Cantata 140 at Creighton University; Handel's Alexander's Feast, Honegger's King David, Brahms's Neue Liebeslieder Walzer, and Vivaldi's Magnificat at the Indiana University Jacobs School of Music; Einhorn's Voices of Light with the Bach Chorale Singers of Lafayette, Indiana; and the preparations of opera choruses for the IU Opera Theaters's productions of Bizet's Carmen, Rossini's Il Turco in Italia, and Gilbert & Sullivan's Mikado and HMS Pinafore. Critics have praised the warmth and communicative power of his performances and choruses.
In 2009 Breland completed his doctorate in choral conducting at the Jacobs School of Music, where he had been a member of the choral conducting faculty, preparing the University Singers for a performance with Dale Warland in 2008, and the previous fall giving over 12 performances as guest conductor of the 120-member Grammy-nominated Singing Hoosiers. Currently, Breland is on faculty at Creighton University in Omaha, Nebraska, conducting the choral ensembles and teaching classes in theory, history, conducting, and diction. He is in demand as an adjudicator and clinician around the Midwest, and in his eighth year at Creighton, the Chamber Choir he conducts has performed at NMEA and North Central ACDA conferences and appears regularly with the Omaha Symphony. They have also more than doubled their number of performances on and off-campus, and they are performing the core repertoire of virtuoso chamber ensembles.
With degrees in Music Theory and Choral Conducting from the University of Georgia and Indiana University, Breland has a diverse background in many different fields of music, including the piano and saxophone. Singing from the age of 6, Breland's first exposure to professional choral music was in 1990 as a member of the Atlanta Boy Choir, where he performed with Robert Shaw and the Atlanta Symphony Orchestra, as well as in tours and festivals throughout Europe. Since then he has been active in the direction of many choral organizations, presently as the Artistic Director of the River City Mixed Chorus and Music Director of Résonance, and recently as the Associate Conductor of Apollo's Voice, a professional choral ensemble which regularly appears with the Indianapolis Symphony Orchestra. His conducting teachers include Jan Harrington, former chair of the Choral Conducting Department at IU and for whom Breland served as personal assistant during his years as an Associate Instructor at the Jacobs School, John Poole, William Jon Gray, Carmen Tellez, and Allen Crowell. He has also participated in master classes with Tonu Kaljuste and Gregg Smith. Breland has studied voice with Mary Ann Hart and Michael Belnap, piano with Ivan Frazier, organ with Jolene Davis, and composition and counterpoint with Roger Vogel. As a performer, Breland has been a member of Indiana University's oldest chamber choir, the University Singers, and the University of Georgia's top choral ensembles, the Concert Choir and Men's Glee Club, appearing at ACDA, IMEA, and GMEA conferences across the country. He has also performed in and been actively involved with many United States and world-premiere performances at the IU Jacobs School, including works by Sven-David Sandstrom, Giles Swayne, James MacMillan, and others. On occasion, Breland has also been seen on the opera stage, performing in various choruses for the IU Opera Theater, from Rossini's La Cenerentola to Bock and Harnicks's She Loves Me.